BAIDU_CLB_fillSlot("858283");
Compared with paper
printing
, the transparent plastic box printing needs to confirm the color of the printing proof, because the quality of the color of the transparent plastic box printing directly affects the quality of the mass production of the transparent plastic box.
Guaranteed white ink printing effect
The transparent plastic box contrasts other colors by printing white ink. White ink usually consists of two colors, warm white and cool white. PVC, APET, PP and other materials commonly used in transparent
Plastic Boxes
also have different colors. For example, PVC has white and blue chips. In transparent plastic box printing, white film is printed with cool white ink, and blue film should be warm. White ink printing. Usually, the transparent plastic box will also print the second white ink to support the bottom. It is recommended to use 80% white ink to superimpose the solid white ink printing, which is more ideal.
Multi-color overprinting with UV curing unit
Transparent plastic box printing is divided into two ways: printing and printing. The white ink is printed first, followed by four colors or other special color overprints. After the transparent plastic box is printed with white ink, it must be UV-cured before overprinting. If you encounter non-white overprinting of other colors (such as large solid blue overprinted large solid dark printing), if there is a poor ink transfer, you should also add a UV curing process between the two colors.
Color standardization, dataization
Densitometers should be used to control color during clear box printing. The dot area ratio of the printed area will be higher, and the dot gain rate will be 3% to 5% higher. Therefore, the measuring strip should be set at the end of the sheet to achieve color standardization and dataization. The printing company should formulate reference data for printing density, dot gain rate and allowable color difference ΔE according to actual conditions. Table 1 is the relevant reference data for a printing company.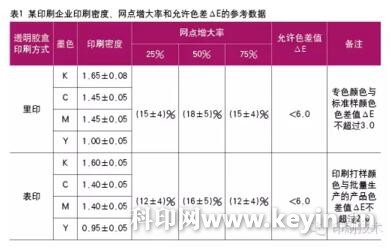 When testing the dot gain rate, you should pay attention to the dot data in the 0% to 20% area. It is recommended to test the 3%, 7%, 10%, and 15% dots respectively. This is because the complete dot gain rate is a parabola from 0% to 100%, and the dot gain is most severe at about 50% of the dots. However, after many years of use, the printing machine will produce data deviation, which results in different reduction rates of small dots, that is, small dots in the 0% to 20% region are most likely to be biased. In addition,
CTP
is also prone to loss of small dots when data is output. Therefore, it is especially important to control the normal restoration of the dot data in this area during printing proofing.
Our company also main to design Plastic Products, Paper Products, Wooden Products, Household Products, Stationery Products, Sewing Products and so on
Triple C International (ShenZhen) Co.,Ltd. was established in 2018. It`s a professional foreign trade company engaged in import and export trade, and carries out business operations such as international trade, cooperative production and intermediary trade. The company mainly provides high-quality OEM-product and ODM-product services for customs in Japan, Southeast Asia, Europe and Unite States, and has a professional technical team that provides hundreds of OEM-product services for dozens of customers, and has dozens of excellent suppliers. The company mainly provides sewing products, plastic products, paper products, wooden products, household products and other OEM services, including handbags, gift boxes, Storage Boxes, stationery boxes, kid toys, Paper Boxes , school supplies, office supplies and other products import and export business.